Carrot Cake Dog Cupcakes With Cream Cheese Icing!
Does your dog like carrots? Then he'll love these carrot cake dog cupcakes for your next dog celebration. What could make this free dog cake recipe even better? How about cream cheese and applesauce dog treat icing! Decorate the top of the muffin with extra shredded carrots for a fun twist. So you probably know that carrots are high in vitamin A, but did you also know they are rich in dietary fiber, antioxidants and minerals?
Show Love with Shredded Carrots
To add to the fun of these dog cupcakes, why not try another color of carrots. Yep, carrots not only come in orange, they also come in yellow, red, white and purple! Substitute or add any of these other colors of carrots for variety.
Ingredients:
Muffins:
2 cups shredded carrots
3 eggs
1/2 cup applesauce, unsweetened
2 tsp. cinnamon
1/2 cup rolled oats
3 cups whole wheat flour
Frosting:
8 oz. low fat cream cheese, softened
1/4 cup applesauce, unsweetened
Instructions:
Muffins:
Preheat oven to 350° F
Lightly spray cups of muffin tin.
In a large bowl stir together the carrots, eggs and applesauce. Set aside.
In another medium bowl whisk together the cinnamon, oats and flour.
Slowly mix in the dry ingredients. Stir until well blended.
Spoon mixture into muffin tin. The dough will be thick, so you may wet your fingers to press the dough into place.
The dog cupcake will not rise very much, so do not worry about over filling the muffin tin.
Bake for 25 minutes.
Cool completely on a wire rack before frosting or serving.
Frosting:
Blend both ingredients with a hand mixer until well blended.
Spoon into a pastry bag for easy decorating.
Storing: These dog cupcakes will keep fresh in your refrigerator for 2 weeks. You can freeze them for up to 2 months. If you are going to freeze them, do not decorate with the frosting until they have thawed. For more information on how to store homemade dog treats please review our tips.
Tips & Techniques
You can choose to make a cake or muffins with this dog treat recipe. Our instructions are for muffins, but to make it a cake, simply pour the batter into a lightly greased cake pan or loaf pan. Start with the suggested baking time, then check every few minutes to see if it's done.
Don't have a pastry bag? No need to worry, just use a plastic resealable bag. Once the frosting is spooned inside, cut a small tip off the corner. Then pipe the dog treat icing on as usual. Or use a spatula to spread the frosting. Want to try another icing? Check out our other dog treat icing recipes for more ideas.
Do you have left over frosting? Don't throw it out! Spread a little on two dog cookies, then press together to make a sandwich cookie.
If the muffin mixture gets too dry, you may need to add 1 tablespoon of water to get it blended properly.
If you have a small dog, use a mini muffin tin instead.
A dog cupcakes recipe with carrots or any other recipe doesn't need to be reserved just for dog parties. Show your little one you care by baking a fresh muffin full of vitamins any day of the week. Just remember, dog cakes, and especially ones with dog treat icing, are treats so be sure to limit the amount your dog can eat at one time.
Double Carob Dog Cookie Recipe with Peanut Butter
This carob dog cookie recipe is too adorable to pass by. If your dog loves peanut butter, and most do, she'll lick her chops when you serve this one with double carob. Why double carob? This dog cookie recipe originally just had carob chips. But I wanted your dog to be able to really indulge in carob. So we've added roasted carob powder. The chips give nice pockets of sweetness, while the powder makes the overall cookie look dark like chocolate. Of course dogs are not to have chocolate, since it's on the list of foods poisonous to dogs. But you both can enjoy the natural sweetness of the carob in this homemade dog cookie recipe. You can feel good letting your dog indulge in these carob peanut butter dog treatssince carob has many health benefits. Carob is low in fat and sodium, and high in fiber, potassium, and calcium. Not only that, it can improve digestion.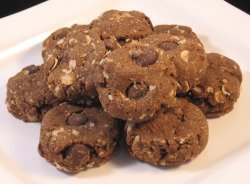 Ingredients:
3/4 cup rolled oats
2 cups whole wheat flour
4 tsp carob powder (see tip)
1 cup natural peanut butter
1 cup milk, low or fat free
1/4 cup carob chips (see tip)
Instructions:
Preheat oven to 350° F
In a large bowl, whisk together the oats, flour, and carob powder.
In a microwave safe bowl, warm the peanut butter for approximately

30 seconds

.
In a small bowl, whisk the warmed peanut butter and milk together with a fork until thoroughly combined.

Make

a well in the dry

ingredients

and pour in the peanut butter mixture.
With a wooden spoon, stir until combined. The dough will be very thick.
Fold in the carob chips.
Place a sheet of parchment paper on a baking sheet.
Using a 1 inch cookie scooper, pack the fudge-like dog cookie dough into the scooper with your hands.
Release the ball and once on the baking sheet, flatten to a cookie shape.
Bake for 15 minutes. Cool

completely

on a wire rack. Or, leave in the oven, once turned off, to cool and harden for 2 hours.
Storing – Keep these carob dog treats in the refrigerator for up to 2 weeks. Freeze and use before the end of 6 months. For more tips on how to store homemade dog treats be sure to read our list of reminders and techniques.
Yield – This carob recipe for gourmet dog cookies will make a nice batch of approximately 42 cookies, or 3 1/2 dozen, using a 1 inch cookie scooper.
Tips & Techniques
Carob Powder – You can use light,

medium

, or dark roasted carob powder for this recipe. The difference is in taste, and most likely your dog will not mind what variety you choose. You can find carob powder in most health food stores. If you choose to omit the carob powder your dog cookie will be light in color, instead of a dark chocolate look.
Carob Chips – This is the one time I will recommend you not use the natural and unsweetened option. The first reason is because it is an overall small portion of this dog cookie recipe at only 1/4 cup. The second reason is that the natural carob chips I've used in

recipes

do not withstand the heat of the oven to bake the cookies. The chip will melt right out of the cookie and make a mess on your baking sheet. Not to mention the fact that your dog cookies no longer have carob chips in them once they've melted out. That's why I recommend finding carob chips that contain some sugars, oils, whey, and soy lecithin. These chips keep their shape while baking and stay inside the cookie, where they belong. You can find carob chips in most major health food stores and online.
The next time you are looking for special recipes for dog cookies, be sure to bake several batches of these good looking, good tasting, and good for you, double carob or "Mock-Choc" dog cookie recipe.
Homemade Dog Biscuits with Peanut Butter & Bacon
If you want to make homemade dog biscuits that are sure to be a hit, then you've got to make this bacon and peanut butter dog biscuit recipe.
Since bacon is high in fat and sodium, this may not be an everyday biscuit. But we've tried to off-set the indulgent ingredients with healthy and nutritional ones, like ground flax and wheat bran.
With two of dogs favorite flavors, all in one dog treat, get ready to wipe the drool off the floor, and make extra batches!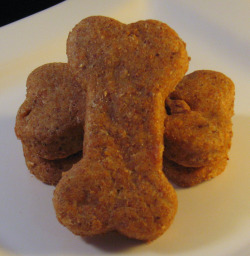 Ingredients:
2 pieces bacon, thick cut, cooked
and crumbled (see tip)
1/8 cup bacon grease
2 cups whole wheat flour
1/4 cup ground flax
1/4 cup wheat bran
2 tsp baking powder
1/2 cup natural peanut butter
1 egg, lightly beaten
3/4 cup water
Instructions:
Preheat oven to 325° F
Cook bacon until crispy. Drain on a paper towel.
Pour the bacon grease into a glass measuring cup.
In a large bowl, whisk together the flour, ground flax, wheat bran, and baking powder.
Crumble the bacon, once cooled, and stir into the flour mixture.
In a microwave safe bowl, warm the peanut butter. Approximately 30 seconds.
In a

medium

bowl, lightly beat the egg. Then pour in the peanut butter, water, and bacon grease. Use a fork to whisk together the wet ingredients until

completely

combined.
Make a well in the dry ingredients, and pour in the peanut butter mixture.
Stir until combined.
Knead lightly in the bowl with your hands.
Lay down one large sheet of parchment paper, roll your dough onto it, then lay another piece of parchment on top. You'll essentially have a dog treat dough sandwich. See the

video

for

tips

.
Roll out to 1/2 inch thickness.
Lightly spray a baking sheet with non-stick cooking spray.
Cut shapes out of the dough and place on your prepared baking sheet. Gather the extra dough, knead into a ball, and repeat the process of rolling and cutting until there is no more dough.
Bake for 15 minutes.
Turn off the oven and leave them there to cool for 2 hours or overnight.
Storing – These homemade dog biscuits will stay fresh in the refrigerator for up to two weeks. They will keep in the freezer for up to 6 months.
Yield – Using a 3 inch bone shaped cookie cutter, you will get 18 homemade dog biscuits.
Tips & Techniques
Ground Flax – Flax has so many wonderful

health benefits

. Learn more about using flax in your homemade dog treats, with our Cheesy Flax Squares recipe.
Choosing Cookie Cutters – Because this recipe uses baking powder, these peanut butter dog biscuits will puff up some during the baking process. Because of that, you will want to choose a dog cookie cutter that has simple shapes. The puffed cookie will not show the same amount of detail as another dog treat recipe.
Crumble Bacon – After the bacon is cooked and cooled, it's time to crumble. Instead of doing this by hand, one tiny piece at a time, break your bacon into large pieces and place in a plastic zip-lock bag. Then easily break and crumble the bacon inside the bag with your hands. This saves time and greasy fingers! 🙂
Bacon Grease – Pour the grease into a glass measuring cup, as opposed to a plastic one, because it will be very hot. You can make these homemade dog biscuits even more special by using the entire amount of bacon grease, instead of just 1/8 of a cup. If you choose to do this, do not add the full amount of water. Depending on how much extra grease you have, add the water 1/4 cup at a time. Continue adding water, up to 3/4 of a cup if needed, to make the dough combine.
Choice of Bacon – If your dog loves bacon, but needs to keep his homemade dog biscuits on the healthier side, you can use turkey or low-sodium bacon for this recipe.
Peanut Butter – Once you have warmed the peanut butter, try to work quickly adding the other wet ingredients. The reason is that the peanut butter will start to harden, and it's much easier to combine everything while it is still quite warm.
When one of my taste tester tried these homemade dog biscuits, it was all she could do to hold still and wait for the treat, while a line of drool hit the floor. If you have yet to make your own dog treats, this is the recipe to start with. Your efforts will be highly rewarded, and appreciated.
BLUEBERRY PUPCAKES 
Tip: use an old coffee grinder to grind up the dog kibble.
 Serves: Makes 12 pupcakes
Ingredients
1/2 c
high quality dry dog food kibble
1 pk J
iffy blueberry muffin mix (7 oz)
1
fresh or frozen blueberries
2/3
evaporated lowfat milk
How to Make BLUEBERRY PUPCAKES (DOG TREATS)
1

Preheat oven to 350 degrees.

2

Put the dog food kibble in a food processor or blender and grind to a coarse flour.

Measure 1/2 cup after grinding.

3

In a large bowl, combine ground dog kibble and the remaining ingredients until well mixed. The batter should be like a slightly grainy cake batter.

4

Grease or line muffin cups with paper baking cups. (Avoid foil baking cups; paper ones are digestible, so there's no danger in case your dog accidentally eats one, but foil could cause problems,) Pour the batter into the cups, filling each 1/2 to 2/3 full.

5

Bake 15 to 20 minutes or until golden brown. (The baking time may vary, depending on the type of dog food and fullness of the cups)

6

Remove pupcakes from oven, allow to cool thoroughly, and store them in an airtight container.

8

Optional: Frost with a thin layer of whipped cream cheese. Sprinkle with a few jimmies, ground dog food, or press a couple of blueberries into the frosting.

HAVE YOU MADE ANY OF THESE TREATS YET? DONT FORGET TO LEAVE US SOME COMMENTS ON OUR PAGE SO WE KNOW HOW YOU GOT ON!